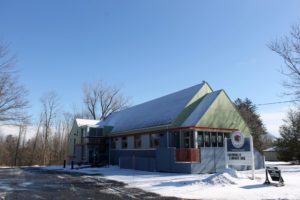 History of the Library
The Taft Public Library was established in 1881 with a gift of $1000 from Mrs. William R. Huston in memory of her brother, Putnam W. Taft.  The Town provided the use of the small brick building which now serves as the Mendon Historical Museum.  On August 17, 1881, a public inauguration was held at the First Parish church with an address by Rev. Carlton Staples.  A quotation from his address reads:
"This library has been founded especially for the young.  It is the earnest desire of the donor that they may regard it especially as their institution, and take a deep interest in its preservation and usefulness."
The Library opened for the delivery of books on August 20, 1881 with Rev. George F. Clark as Librarian.  There was a total of 1478 volumes in the library and the number of borrowers for the first year was 329.
The library was housed in a small building for many years.  As more space was required the library raised funds for a new building.  St. Michael's Catholic Church was purchased and the new library opened in June of 2016.  It continues to provide an excellent program for children, encouraging them to participate in the community as was the founder's original intent.